An interview with Philippe Apeloig: part 2
by Ayse Kongur and Tom Hunter-Watts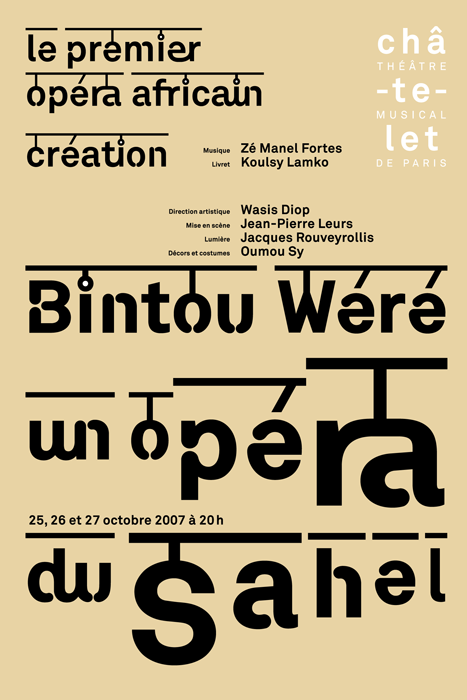 Every designer is asked about the social role that design should play. Why are designers being asked to account for themselves politically these days?
It's a nice dream to think that the designer can change the world. To make a revolution!
Well, it's a great concept, something that you dream about, and I think designers probably do. But I think the world changes faster than them. I don't think a designer should be didactic, it's ridiculous. It's as if you asked an architect to build only hospitals or schools, or to work just on projects meant to save the planet. Personally, I'm not able to do that. My grandparents and parents were involved in fighting for causes, so I know what that commitment means. I admire the patience and energy required to fight for good causes, but I don't know how to do that myself. I don't have the energy. If the designer must fight for something, I think they may need to fight for quality in design – before, say, doing a poster against racism, or that kind of thing. It's something you can do, but it's not something that you should do.
Tell us about your experience at the Musée d'Orsay. It must have been a wonderful first job.
Of course! First of all, the project was absolutely extra­ordinary. It was the first time in years that the French government had created a new museum on that scale. In working on the project, we had to ask what it meant to show art in a museum in the early 80s. We were involved in building a totally new vision for what a museum could be. You can see today that it has been a huge success. The Musée d'Orsay changed the way people see museums, and how they use museums for their pleasure and education.
The Musée d'Orsay also served as a model for other museums in France and around the world. Curators became aware that displays of art had to be integrated with the historical context in which they were shown. The task of building the museum (inside an old train station) based on the collection – that was fabulous. Instead of replicating a classical model – an empty space to be filled by art – they built the walls and the structure because of the art. It was a different approach, and I was very spoiled to work with such a wonderful team. The cultural bureaucracy at that time was at a very high level – really open-minded. I think that sensibility has disappeared today. Luckily, this experience happened not long after I left Total Design.
From 1997 until last year you worked with the Louvre. Could you describe what changes you made to the way they do design?
I started to work for the Louvre in the mid-1990s, because I met the director while I was in Rome at the French Academy. He wanted me to take care of everything – the signage, the publications, everything. He told me it was a real mess, and it was, in some ways. There was so much work to do. But slowly I designed some posters, redesigned the brochures and the flyers. The corporate identity was built before the introduction of computers, and for that reason everything had to be cleaned up technically. There were important typographical mistakes. For example, they were using two kinds of typefaces. They used Granjon and Univers, but they were not using the two in a systematic, legible way. They used Granjon for the signage system and for posters, although Granjon was intended for body text. Univers is more appropriate for titles and posters.
It must be hard to work purely typographically for a museum where the focus is always going to be on the exhibits, but Dix Ans de la Pyramide is an especially wonderful poster.
The Pyramid is such an important monument, built right in the middle of Paris on an historic site. For years the Louvre communicated only, or mainly, through the image of the Pyramid. But it wasn't new anymore. It was built in 1989. There were so many other things happening that nobody knew about. So when they said, "We need to celebrate this anniversary," and came to me with images of the Pyramid taken when it was new, I thought, you cannot do something fresh with images that are ten years old. I said, it's impos­sible, we've seen it so many times, why show it again? I suggested that we evoke the building, not illustrate it – evoke the architecture and feeling of transparency in its iron structure. I started to look at all the original drawings by IM Pei, and eventually found this combination of typo­graphy and structure, like a diamond. I said, "This is the poster."
For the Octobre en Normandie festival you were able to produce a great range of graphic ideas from year to year. The organisers in 1995 weren't originally sympathetic to your typographic approach.
Well, that's what happens when people do something unexpected. It was very hard for the organisers of the festival to accept the modern designs I made. People are attuned to the past there – it was very, very difficult for them. But they did it.
We had many wonderful discussions, made some great work together. It was a very interesting relationship, but those people eventu­ally moved away to build their careers. They left the festival. When this happened, it lost its avant-garde spirit. You have to realise that a good thing, a quality thing, an unexpected thing, comes about because you have people behind you who want to do it. Otherwise, there's nothing. You have to fight against what we call 'inertie'. It's a kind of passive-aggressive­ness. People prefer to stay put, not move, not go beyond their comfort zone.
What is the best approach to dealing with clients?
First, you have to be honest – honest with the client who comes to you, and honest with the people who will see the work. So, honesty. Loyalty too. This sounds very moral, but it needs to be in your mind at all times. You dare as a designer to educate the client and the consumer. You help them to look and to feel. You don't do this through gimmicks or what they already know. You have skill and knowledge, and that gives you the right to push people a little bit further from the outcome they had in mind. That's our role.
Relationships with clients can sometimes be very strained, and designers often feel abused or misunderstood. Has this been a problem for you? Do you still have to negotiate quite hard?
Every day, every hour, every minute, every second. From yesterday, until today. It's crazy. I feel really sad because I'm not a young creator anymore. I have some experience behind me. When I emerged from Total Design with all these modernist ideas I wanted to implement, I had a hard time understanding why they were not accepted. I couldn't understand why people were stuck in ugly, old-fashioned traditions of typography and communication. But I told myself I had to be understanding, because these people were responsible for huge administrations and companies. They were not trained to know what design is. It was another time, 25 years ago. But today it's different. There's no excuse. When I'm faced with young people responsible for communi­cation and I bring my ideas and I hear, "Oh, we can't do that", I ask them, "What do you have in mind?" When they suggest some old recipe from Grandpa, that for me is a tragedy.
When I was at school, there was only one design book in the whole library. It was by Milton Glaser. Admittedly, there were very few books on the subject then, and no design magazines. Most people in the old days learned on the job. But today, when a young person comes to you with old-fashioned ideas, it's just unacceptable. And not only poor ideas, but no energy, no audacity to do something creative. I'm worried, because fear dominates everything and everyone today.
In the hierarchy, you mean?
In all the ways people behave – in the hierarchy, in the fact that people are afraid to assert themselves. I sense that people would rather smooth things over than mix them up. Or they provoke just to provoke. Taking action stupidly is even worse than being afraid to make waves. It's a pity. Every day I'm so surprised by the poverty of spirit and fear that control people's behaviour.
Aren't we being surrounded these days by a surfeit of bad or superficial design and typography?
As in art, you will probably find more bad typography than good, but that's really the essence of what art is. Art is exclusive. Not everybody can be an artist, not everybody can have this incredible sensibility, to see that this type is perfectly well-designed, well-shaped, has this little accent there. It's a skill. Musicians have the same kind of aptitude for hearing – which I don't have – but in the end I'm sure that people, in general, are sensitive to quality. Quality is something people enjoy. When design is bad, it doesn't attract, or attracts for a very short period of time. Then, it disappears. Time does what needs to be done – cleans everything up, erases what is unnecessary.
I think design, more than fine art, evolves very quickly, has more to do with trends. To communicate, you have to understand social codes. If you look at design books from just ten years ago they look terribly old-fashioned. It's a challenge to aspire to timeless graphic design, but it's a valuable goal. I was very surprised when I had an exhibition in Paris last year. We wanted to show some new work along with some old. I was not pleased to show the old work, but I was surprised to see that some – not all – is still okay, still fresh. The good ones don't look as if they were made a long time ago. So, I said to myself, okay, this was good work. It's hard while you are producing a piece to know whether or not it's any good. Of course, each time you create something, you do your best to find the right energy and motivation to shape something good. Time lets you look at your work in a different way. You're another person now, and have deeper, more informed, judgments. I realise that some of my works are still very contemporary and modern, while others that I recall putting so much effort into are terrible. There are no recipes, unfortunately.
What do you count as your biggest success?
That I'm free to do what I'm doing now. To think that I don't need to teach to earn my livelihood. I don't need to do advertising, I can survive by my work. That, I think, is the best success because it gives me freedom, which I always hoped and worked for. I want freedom, and I think success is being loyal to oneself and not being compromised.
What would you recommend to design students and new designers for their success?
Maybe to behave like artists and not like business people.
Part one of this interview appeared in the February issue of Creative Review